Right, so you've just started playing Star Sonata. You're in Rats Preload without a cent to your name, and floating round in a Zebucart. You take a look around, and then think 'screw this' and start pointing your mouse towards that little Cross thing in the corner, and then suddenly, you spot this most awesome guide made by yours truly.
Contents:
1) Basic controls
2) Starting out
3) Missions
4) Earning your money
5) Moving on...
Chapter one - Basic Controls:
The basic controls for Star Sonata are very simple, because initially there are only a few things you need to do.
Turning: The controls for turning are very simple. W controls your thrust, and A/D turn you anticlockwise and clockwise respectively.
While you have a weapon equipped, target your enemy and press Space to fire at him: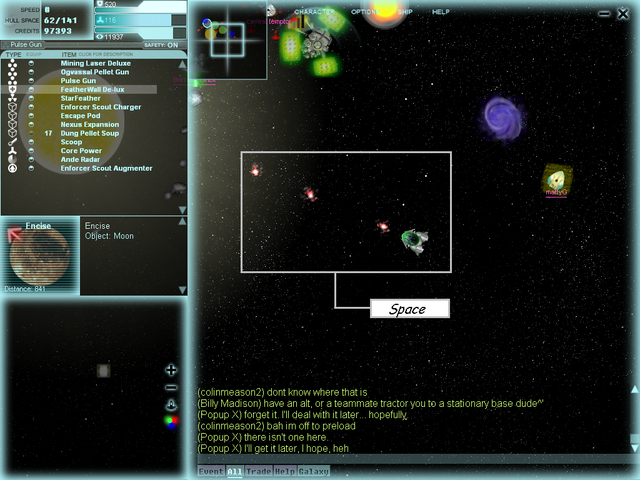 To dock at a station, come to a stand-still over it and press R to dock:
To jump using a Wormhole (Wormholes take you to new systems), press F while near it:
Other controls:
T - Open up a chat entry box. Type a message and then press Enter to send it.
C - Scoop up debris and items while flying over it if you have a scoop equipped.
U - Feeling emo? This one will allow you to kill yourself. Pointless? Very.
G - If you have a tractor beam, target something and press G to use your tractor beam on it.
E - If you have more than one weapon equipped, press E to switch between weapons.
Chapter two - Starting out:
Now, when you enter the game, you'll notice that you're sat in space in your brand new Zebucart. You are currently in Rats Preload. Now, you have two options here: you can experiment with the controls and get used to the concept of aiming and shooting your weapon. Alternatively, you can go to the space station nearby and pick up your first mission from the Available Missions box (Your first mission will send you out to do the first option anyway). Your very first mission is to go and kill a Space Rat. Nice and simple. Complete the mission and then head back to the station and hand in the completed mission, which will in turn unlock a few more missions for you to complete.
Once you have done one or two missions in Rats Preload, you will recieve a mission to make a delivery to the Commerce Preload system. To go to Commerce Preload, go to the blue wormhole nearby and press F to jump. You will now find yourself in a different galaxy with two new stations, Micro Fabulous and Silicon Valley. Hand in the mission you have just done and you will now have another couple of choices: From here, you can take advantage of a handy trading route between the two stations (Micro Fabulous has a very high demand for Silicon, and Silicon Valley could always use more Micro Chips). Alternatively, if you head over to Silicon Valley, Jed the Space Miner is looking for an able bodied person to fetch him a Mining Laser, and he will reward you handsomely for it.
Now, after you've done a bit of killing, you will hear a nice shiny "Ahhh!" sound. Congratulations, you've gained a level! When you have gained a level, you can dock at a nearby Station and use their neuro-training facility to upgrade your skills and allow you to use more high-tech ships and equipment.
Once you have done some trading, and earned yourself a little bit of cash, you can buy yourself a nice new ship. The Phunka.dll is a good place to start. While slightly slower than the Zebucart, it has more hullspace which will allow more equipment and cargo. Once you have bought yourself a new ship, right click on all the equipment and cargo in the hold of your current ship and transfer it to your new one. Once in your new ship, don't forget to equip it, and if you wish, you can sell your old ship!
Chapter three - Missions:
Now, in the previous chapter, I mentioned missions briefly.
There are a number of missions in the Preload galaxy that are designed to help you get on your feet. These missions will often have either experience, money or useful items as a reward, or sometimes a combination.
Here are some of the missions you may find in Preload.
Earth Central Training Outpost:
Here, Enforcer Ogvassal is looking for new recruits to train. He is currently handing out assignments to his recruits to help keep the Space Rat population in check. For one of these assignments, he is offering a Scoop as a reward (You will find this incredibly useful later on).
Micro Fabulous:
Olga the Administrator is currently looking for pilots who are willing to kill some Space Rats and bring back supplies for the Station. He is offering some tasty home-made soup as a reward. This soup is so good, it will even give you an edge in combat for a short time.
Silicon Valley:
Jed the Space Miner here is looking for opportunistic rookies who don't mind doing some hard work. He will upgrade your mining laser, then he will pay well for any Metals and Promethium you might pick up from the nearby asteroids.
Chapter four - Earning your Money:
The Preload Galaxy is specially designed to prepare you for open space, and being prepared means having money in your pocket!
There are a few ways of earning money in Preload:
-Missions
As I mentioned earlier, missions are a good source of money. Some missions are repeatable too. Jed the Space Miner could always use more Promethium and Metals, and Olga the Administrator can't make more soup without that special ingredient.
-Trading
As I also mentioned earlier, the two Stations in Commerce Preload. Silicon Valley is a silicon refinery, which always needs more micro chips for machinery. Micro Fabulous is a micro chip factory, and will pay well for silicon from nearby Silicon Valley.
-Mining
In Commerce Preload, there are quite a few asteroids to mine. Asteroids will often yield useful materials, like Promethium and Metals that Space Miner Jed will pay plenty for, Silicon that you can offload at Micro Fabulous, and Micro Chips (Don't ask me, I didn't program the game...) which Silicon Valley will buy from you.
Chapter five - Moving on...
Once you feel that you've done enough in Preload (you've upgraded your equipment, trained your skills, and earned some moolah), you will find another Wormhole in Commerce Preload that leads to The Nexus. In The Nexus you will find yet more pirates to kill, missions to complete, and gear to acquire. Eventually, you will move on here and make your way to Sol, where the real adventure starts...